star_border
Reply
Mark Topic as New

Mark Topic as Read

Float this Topic for Current User

Subscribe
Filtering Out Duplicate Article Page's
Visitor ✭ ✭ ✭
October 2016
Hi there,
Looking into creating a monthly report for editorial teams using GA data imported into Data Studio, a part of which is a table to show worst performing content in terms of page views.
Each online article has a unique ID, however Page Titles sometimes get changed shortly after publishing - and when filtering by lowest page views it brings up these duplicate/obsolete pages. Is there any way to filter so it will only show a single instance of an article based on unique ID?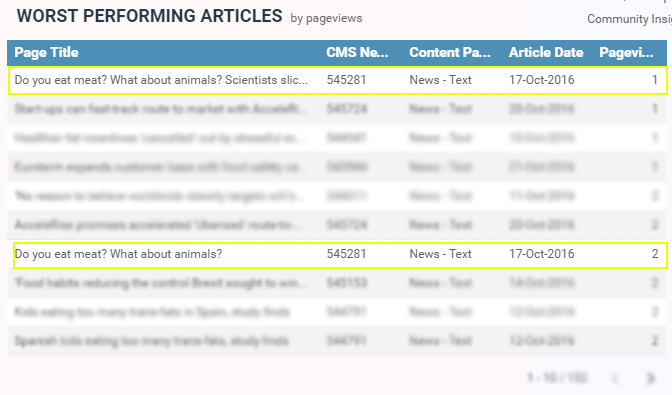 I can do this by having the ID as the sole dimension (see below), but as soon as the page title dimension is added everything is duped. Obviously the Page title element is needed for the report to be useful.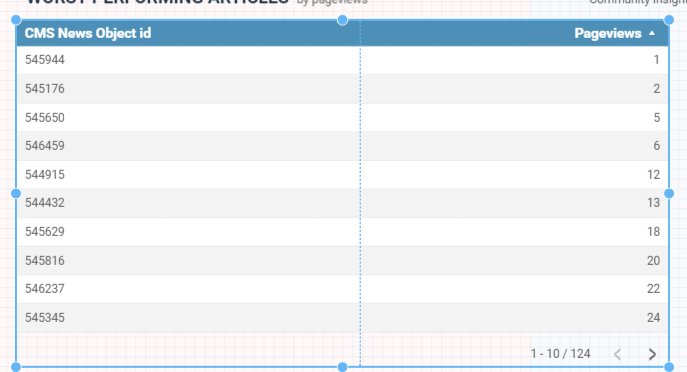 Many thanks.
Filtering Out Duplicate Article Page's
Explorer ✭ ✭ ✭
November 2016
You might be able to do this by defining content groups in Analytics or by creating custom dimensions in Analytics and then use one of those options in Data Studio instead of the default page title. I'm not sure if those options will work for historical data however.
You could also create a Custom Dimension that renames mislabeled Page Titles, but this option may not be viable if you need to change a lot of Titles.
Another option might be to use the Page dimension, assuming that the URL path does not change when the titles are changed.