star_border
Reply
Mark Topic as New

Mark Topic as Read

Float this Topic for Current User

Subscribe
Frequently Asked Questions by New Advertisers
[ Edited ]
Top Contributor
August 2012 - last edited December 2012
Circle Scott Dunroe On Google+
My ads are not running, all my stats show 0
---
The first step is to ensure that your billing information is submitted and done so successfully, it can take a while to process this information meaning that your ads won't show in the meantime. When new ads are introduced (or modified) they are automatically put into a review process before they can go live, patience is required during this period as it can take up to a day or two before they are approved.
If you have waited a significant amount of time and your ads are still not running then it is worth making use of theAd Diagnostic Tool. Enter one of your included keywords from the campaign, hit Preview and then check to see whether an error message displays towards the bottom of the tool. You will also need to review your ad rank which is determined by quality score and bid values, if your bid doesn't match the estimated first page bid estimate then you may need to increase it to obtain a first page ranking. Quality score can increase or decrease this estimate while a very low quality score can result in your ad not showing for particular keywords at all.
A final possibility is the fact there may be a server delay from Google's side which will result in a delay of your ads being uploaded and approved. You can also make use of the Troubleshooter to help identify the most likely reason why your ads are not showing.
I have impressions and clicks on my interface but can't see my ads on Google
---
Primarily check that you have set your ads to run on the Search Network by going to the Settings tab after selecting the appropriate campaign. You will be able to see whether you have this selected under the Networks and devices section. Your ads can still generate impressions and clicks from the display network without ever being shown on Google's search engine itself.
Make use of the Ad Preview Tool and change the preview settings to match those of your campaign with regards to location, device, etc. It is also important you do this rather than search for your ad in the main Google search otherwise you will accrue multiple impressions which will have a negative impact on your CTR and eventually your quality score in the long term.
A final thing to check is the ad scheduling of your campaign. If you search for your ads during a period where you have set your ads to stop showing then you will never be able to find them. Have faith in the statistics generated in your AdWords interface and try to get out of the habit of searching for your ads every 10 minutes!
I have a promotional code but I don't know where to apply it
---

Go to the Billing tab of your account > Ensure you are on the Transaction History page by checking the left side of the page > Click on the More actions drop down menu and then select Apply a promotional code.

How do I grant access to multiple users?
---

If you have a business with various staff who need access to the AdWords account then it may seem like a case of simply sharing the administrative login details. This is not a good idea though due to security issues; linking separate accounts keeps things organised and allows the users to see who made different changes to the account. It will also allow the business to set Standard, Read-Only or Email only access appropriately for different members of staff. To add more users to the account:
Click on the My Account tab > Ensure you are on the Account access page > Click Invite other users > Simply enter the details, set the access level and hit Send invitation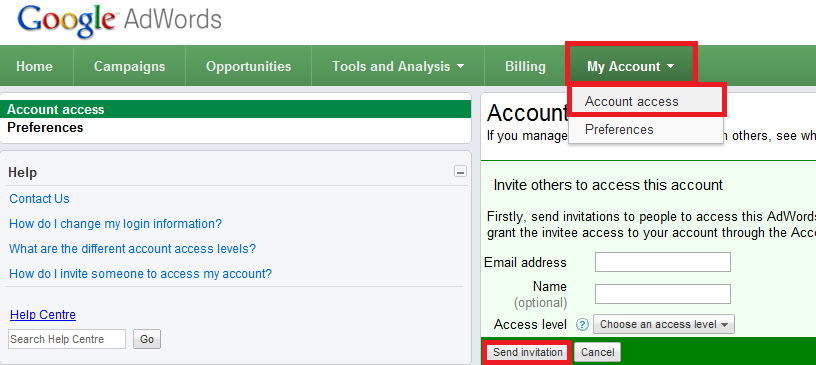 Once the recipient accepts the invitation via their email, they will be granted access according to what level was set for them.
How do I generate reports?
---

The best thing about the report system is that you can download exactly what you are viewing from the AdWords interface at that time. So if you wanted to restrict a report to statistics regarding your ads for example you can select which campaign, ad group(s), columns, etc, you wish to view before downloading the information making the analysis of it much easier to navigate. You also have the option to have reports run automatically at specific time periods and then have them forwarded to an email address (or multiple addresses) of your choice. To generate a report:
Primarily select a campaign of your choice > Select a tab you wish to download a report for (Ads for example) > Click the icon which looks like a downward arrow pointing to a tray (it is located above the graph) > You will now be presented with options to modify your report to exactly how you want > Finally hit Create and your report download will begin.

Why is my budget exhausted before the day is over?
---
This can occur when your budget isn't large enough to cater for the interest in your keywords over a day's period. If you do not wish to increase your daily budget then consider scheduling your ads to be active during the times your customers are most likely to take action on your website. It is also worthwhile to watch your Search Query Reports to make sure you are not receiving impressions/clicks for irrelevant search terms, identify Negative Keywords as well as new keywords you had not yet thought of.
How do I see my Quality Score?
---
Navigate to your Keywords tab > Click on the Columns drop down button > Select Customise columns > Go to the Attributes metric > Add Qual. score > Don't forget to hit Save
An alternative is to hover over the speech bubble beside each of your keywords which also provides you with a brief status report on that keyword along with it's quality score.
Why do I have a low Quality Score?
---
Past performance: If Google finds that a keyword has provided poor results for advertisers in the past it may receive a diminished quality score from the start. Either avoid the keyword or work on increasing its quality score by increasing the Click Through Rate (CTR).
Relevance: If the keyword is not truly relevant to your product or service it may cause a poor relevancy score. Keywords should be as specific as possible to the product or service. Example of poor keyword for 'ballet shoes' would be ' footwear' – Example of Good Keyword: ballet shoes, ballet slippers. While footwear is relevant to ballet shoes it is not relevant enough to effectively use with AdWords.
Low Click Through Rate (CTR): A low click through rate is an indication that visitors do not find their search query relevant to your ad text. Google judges relevance through user behavior so a low CTR in an indication of a problem. A continually low CTR (less than 1% on the search network) will degrade quality score.
What is the difference between an account, campaign, ad group, keywords and ads?
---
Account: You only have one AdWords account. Every aspect of the AdWords interface takes place within the account. The account level is where you select your billing, and payment options.
Campaign: You can have multiple campaigns within an account. The campaign level is where you select geographic, language, network, and device targeting options. You also set your daily budget at the campaign level. First time advertisers may begin with only one campaign. As you add campaigns (ex. search campaign, and display campaign) your total daily budget is the total of all campaign's daily budgets. $25/day search + $25/day display = $50/day total daily budget.
Ad Group: There can be multiple adgroups per campaign. The adgroup is where you can set your (default) bids. Ad groups can include keywords for the search network, and placements (and/or keywords, topics, interest catagories, audiences) for the display network. The ad group also includes the ads that will be shown when your targeting options, match a users search query, or placement view.
Keywords: These are what google uses to determine whether or not to show your ad to a user. An ad is shown when the keyword, bid, and targeting options, all combine to determine whether or not your ad ranks high enough in the auction for that ad to be shown. You can set individual bids for keywords, placements, etc, within the ad group. You change keyword match types, add or delete keywords, and add or delete negatives at the keyword level.
Ads: The ad is the only part of your adwords account that a user (searcher, potential customer) ever sees! The ad is the lowest common denominator. All your performance data for your keywords, ad groups, campaigns, and account, depend on what happens when a user sees each ad. The higher the CTR of the ad, the higher the CTR of the keyword which triggered that ad to show, the higher the CTR of the adgroup the ad and keyword are in, the higher the CTR of the campaign that ad group is in, the higher the CTR of the account that campaign is in. This is why the ad preview / diagnostic tool is such a useful tool, and the place to begin a "why is my ad not showing" investigation. Every other level of the account is taken into consideration for each ad auction. If there is a problem at any level of the account, ads diagnosis should help provide some real insight as to what that problem is.
ScottyD,
AdWords Top Contributor
Was my response helpful? If yes, please mark it as the 'Best Answer.' Learn how
here
.
3 Expert replyverified_user