star_border
Reply
Mark Topic as New

Mark Topic as Read

Float this Topic for Current User

Subscribe
Less information in Insights view
Visitor ✭ ✭ ✭
September 2016
We recently noticed the Insights panel has changed for us. We are no longer provided with detailed information regarding specific post insights, such as engagement rates, visibility and audience. Here is an example of the insights we had: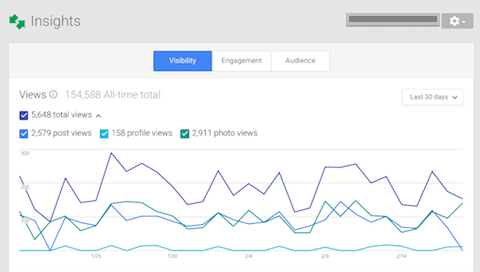 and now we are only able to see the information below:
Is there any way to get the more detailed Insights regarding our Google+ posts back? Any help is appreciated.
Thanks
1 Expert replyverified_user
Marked as Best Answer.

Accepted by topic author

Mona V
Less information in Insights view
Top Contributor
September 2016
Hi Mona
Unfortunately all the info we have at this stage is that it is removed from the GMB dashboard.
To better serve our users, we're focusing these new insights for local listings on Google Search and Maps, and removing Google+ statistics from the dashboard.
https://smallbusiness.googleblog.com/2016/08/get-better-insights-with-google-my.html
With the "conscious uncoupling" of Google Plus and Google My Business, I wonder if this is part of a direction to gently nudge businesses out of G+ so the platform can be more person-to-person.
---
Was my response helpful? If yes, please mark it as the 'Best Answer.' Learn how here.
Margaret O · Google My Business Top Contributor
Find me on
·
· my blog