star_border
by ScottyD
|
Posted 07-12-2012 08:53 AM
What is the Dimensions tab and how can I use it?
Circle Scott Dunroe On Google+
What are Dimensions?
Accessing the Dimensions tab gives you the opportunity to analyse historical data from various viewpoints directly from the interface itself rather than having to download reports; this can performed at an ad group, campaign or account level depending on how general or specific you wish to review the data. These different Dimensions help you to dissect your account in a number of ways including the following:
Time
Conversions
Reach and frequency
Labels
Destination URL
Geographic
User locations
Search terms
Automatic placements
Free clicks
Call details
This may seem like a large list to work through but spending a bit of each time on each one can be fully beneficial to optimising your account, before you can do that though you will need to find where to review these different Dimensions.
Where can I see these Dimensions?
The Dimensions can be accessed in a few simple steps:
After logging into your account select the level you wish to review the Dimensions at whether it be a whole campaign or just an ad group for example.
Next click on the Dimensions tab which is located to the right side of the tab row.
Click on the View: drop down menu to be presented with a list.
Select which Dimension you wish to analyse and ensure that you have columns enabled along with a suitable date range.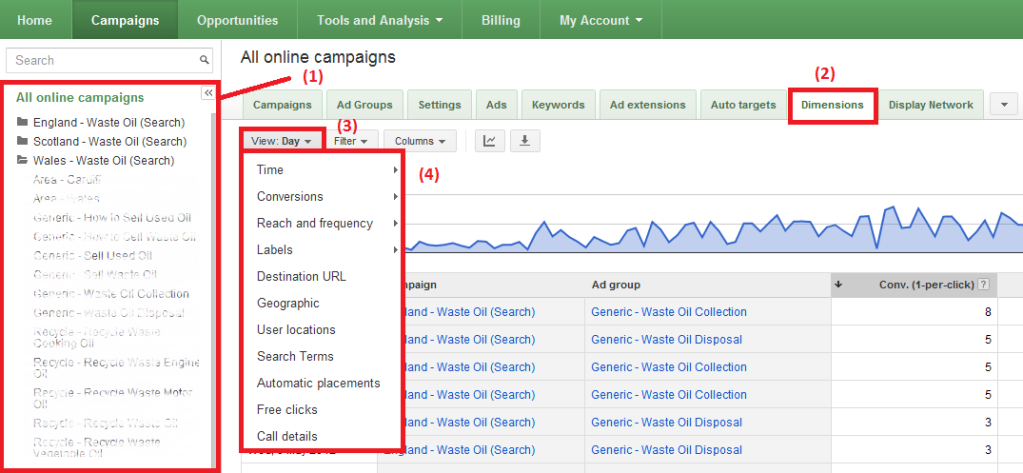 What does each Dimension mean?
The statistics you are presented with might be a little daunting at first until you understand what each Dimension is actually telling you. Once you become familiar with each Dimension you will have the ability to use the information to your own advantage and optimise your account effectively, here are a few summaries to give you ideas:
Time -

Many advertisers when creating a campaign will be in a dilemna of when to set their ad scheduling as they are reluctant to miss out on potential business while at the same time do not want to attract irrelevant traffic. If an advertiser has decided to let their campaign run for 24 hours a day then analysing the Time section of Dimensions can help them to make a better decision when it comes to ad scheduling. Sorting the data by total conversions or cost per conversion for example will quickly identify which hours generate the most business and which generate the least and / or produce the worst return on investment. It is also interesting to note the average CTR at certain hours to establish whether there is a trend or pattern which can be addressed. Don't forget that this data is not only restricted to an hourly basis but also days, weeks, months, etc, which again helps you to see how seasons or certain times of the year may effect your campaigns and business.
Conversions - Generally it is quick and easy to review conversion data directly from the standard campaign, ad group, keyword and ad level interface (or reporting system) but not so simple to get a breakdown of your named conversions and types. This Dimension is ideal for seeing where particular conversion types are coming from within your account and also comparing the statistics for the different conversions at the same time. So if your website offered a free trial conversion and full paid conversion for example you would be able to identify which campaigns, ad groups, etc, are producing more of each type of conversion; you can then also compare how particular statistics such as average CTR are between your trial and full paid conversions.
Reach and Frequency - I personally view this Dimension as a bit of a hybrid in the sense it is similar to Analytics but focused on AdWords. You can review how many people viewed your ads and how many times they saw them over a particular period of time whether it be daily, weekly or monthly. The reach (referred to as "Unique users" within the Dimension) is the number of individual customers who have been exposed to an ad while the frequency is the average number of times a customer is exposed to an ad.
Labels - If you are utilising labels then this is the best way to view a summary of how they are performing. You can sort the data however you want to make comparisons between the various assigned labels, so if I had labels to distinguish different cities I target for example I could then sort my data by conversions to quickly identify which city is generating the most business for me.
Destination URL - This allows you to see the performance for individual destination URLs / landing pages within your account. While it might appear to be a simple Dimension analysing this information is just as important as everything else as it gives you the chance to identify which landing pages are performing well and which are not. If you notice that one destination URL is performing better than another within the same ad group for example then it is worth trying to improve the lesser performing landing page or focus on pushing the better performing one. It also gives your room to use split testing to your advantage as you constantly aim to create the best possible landing page for your ads.
Geographic - The Geographic section within the Dimensions tab allows you to quickly see which countries, regions or even cities or involved in your campaign and to what effect. Sorting your stats by ROI related statistics (such as cost per conversion, total conversions, etc) will help you see which areas are bringing in the majority of your business, you can then decide whether you want to segregate specific areas and assign them a separate budget while making the campaign itself relevant to that particular area. So if I have a business in the United Kingdom, analyse the Geographic section of the Dimensions tab and identify that London is contributing to over 75% of my revenue then I would dedicate a campaign to London while focusing ads, keywords, etc, to the London market. This is just one example of many when reviewing this data, you need consider your own marketing goals and then use the information appropriately whether it to be exclude areas that aren't performing for you or to push the one that are.
User locations - Similar to the Geographic Dimension, User locations gives you information of where the user is actually based when viewing your ad rather than what he or she is actually looking for. So if I searched "California hotels" for example the Geographic Dimension would record my date to be related to California whereas the User location Dimension pinpoints my actual location (being the UK) instead.
Search terms - When reviewing your keywords in your account you are basically checking out 'general' data in the sense that you aren't actually seeing what has specifically triggered your ad when a broad or phrase match keyword has been used. The Search term Dimensions gives you a breakdown of the actual search queries that have allowed your ad to be displayed to a potential customer. So let's say I used the broad keyword "hotel in California", the Keyword tab will give me data purely for that keyword while the Search term Dimension will help me identify variants such as "find hotel in California" which have stemmed from the original broad keyword "hotel in California". This information is essential in expanding your existing keyword lists as you are able to see what additional terms are generating business for you; it is also key in cutting down wasted budget as you are able to see any irrelevant search terms which can then be added to your campaign as negative keywords.
Automatic placements - Similar to the Search term Dimension but for the display network, the Automatic placements Dimension gives you the insight to see where you ads are being displayed across the network. You can sort the data depending on what you wish to focus your attention to and then take action according to your findings. So if you arrange the data by conversions for example and notice that a particular placement is generating a significant amount of conversions you may wish to include it within your campaign as a managed placement and increase the CPC bid to ensure that you are shown their regularly.
Free clicks - These are actions determined by Google to be considered free, examples include that of a user hovering their mouse over a display ad for at least one second or performing a display ad interaction as another example. This information can be useful in working out how users are interacting with your ads and whether they can be introduced to other parts of your account.
Call details - If you are using Call Extensions this Dimension provides additional information relating to your phone calls generated via AdWords. Each call has the following information recorded and presented to you within the Dimensions tab:
+ Call start time
+ Call end time
+ Status
+ Duration
+ Caller area code
+ Phone cost
+ Call type
Reviewing this information can enable you to determine various things such as callers from a specific area code generally have a longer call duration to that of a different area code for example.
Summarising the Dimension tab
If you aren't already using the Dimensions tab then I strongly suggest that you do so, even if it's just to perform a 'check-up' now and then. Going through just a few of these various Dimensions can instantly help you identify areas where you can reduce costs in the long term and even improve your existing AdWords peformance. Do both yourself and your AdWords account a favour by checking out the Dimensions tab today!
about Scott Dunroe
I have been managing AdWords accounts for over 8 years now at an international marketing agency level and also as a freelancer. I am very passionate about Google's PPC platform and pretty much anything else that is Google related. My theory in life is to learn something new every day and this community is definitely a good place to do so; I would recommend anyone reading this to stick around as it's an excellent source of information with great people contributing to it.
You must be a registered user to add a comment. If you've already registered, sign in. Otherwise, register and sign in.