star_border
by purefuzz
|
Posted 01-17-2013 07:05 PM
Using Valentine's Day as Sales Opportunities for Everyone
You don't need to be an online jeweller, a chocolate retailer or flower shop to take advantage of this once a year event.
Valentine's day is all about love and friendship, and maybe the types of sites listed above fall into the perfect target market for it but that doesn't mean you can't try and incorporate it into your seasonal AdWords plan.
Your potential customers will still be searching for your products and services all year round (excl seasonal products/services) so why not let them know that YOU LOVE YOUR CUSTOMERS and will look after them.
It can be as simple as creating a Valentine's Day landing page which has some kind of special offer to help entice your customers in and get your ad copy in line with the promotion.
A couple of ideas for you:
Give a free gift was any purchases – This is in line with gift giving for Valentine's Day
Offer a limited special offering 20% off new orders
Offer a free gift wrapping service

Here is an example of some ad copy that could be used.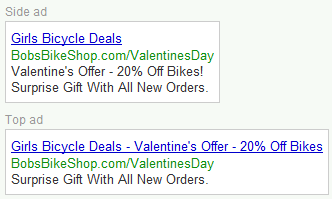 This kind of special can be used for pretty much any seasonal event and I'd recommend researching and creating an events calendar that you can use to align your advertising with. I like to use at least 4 per year on the accounts I run.
Once you have your seasonal ads, AdGroups or campaigns built, you can pause them after the event and reactive them the following year to make things easy.
It's all about testing and measuring with AdWords so why not see if something like this could fit into your advertising strategy and let us know how you do?
You could be very surprised in how a simple little change in your normal strategy can impact your online performance.
about Adam Briggs
Adam is the founder of assistAd, an online tool developed by a group of search specialists to make it easy for you to plan, manage and optimize your search engine marketing campaigns. We're still under development but will be launching the BETA version very soon. You can contact adam by emailing adam@assistad.com or on skype: briggidere Or visit www.assistad.com
You must be a registered user to add a comment. If you've already registered, sign in. Otherwise, register and sign in.