star_border
by tomhalejr
|
Posted 01-03-2013 12:20 AM
Step by step instructions on how to set up a click-to-call only campaign.
Why Use Click-To-Call Only?
If calls generate the majority of your conversions, it may be beneficial to make sure the campaigns are segmented by device, and the structure/strategy of those campaigns – including keywords and especially ad copy – is focused on optimizing for click-to-call calls.
When Should I Use Click-To-Call Only?
There is a distinction between click to call, and click to call only.
You will have to decide for yourself, whether you want to give potential customers an option to call or visit your website - Or, no option other than to call your business line. If you have already decided that click-to-call only is the option for you, then here is how you set it up...
How To:
Setting up click to call only, can be done when you set-up your call extensions, or edited at any time:
1. Enable your ad extensions tab (Gray down arrow on the right of the gray campaigns, adgroups, keywords, etc. tabs).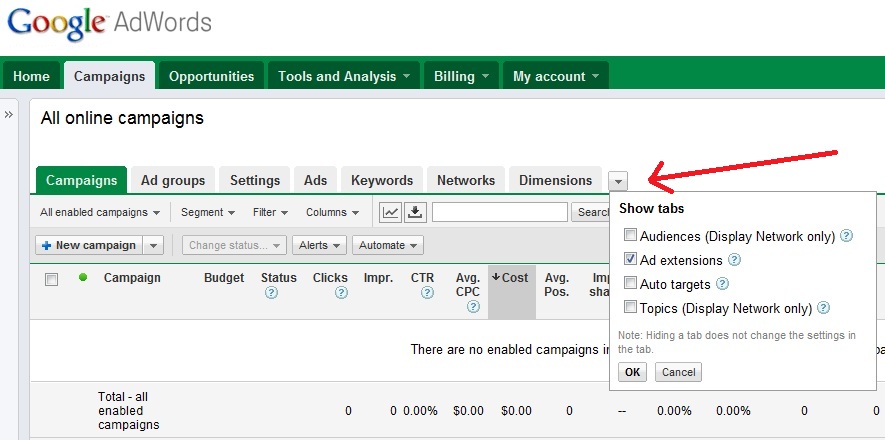 2. Click on the ad extensions tab, and select call extensions from the "View:" drop down menu (directly below the gray campaigns tab).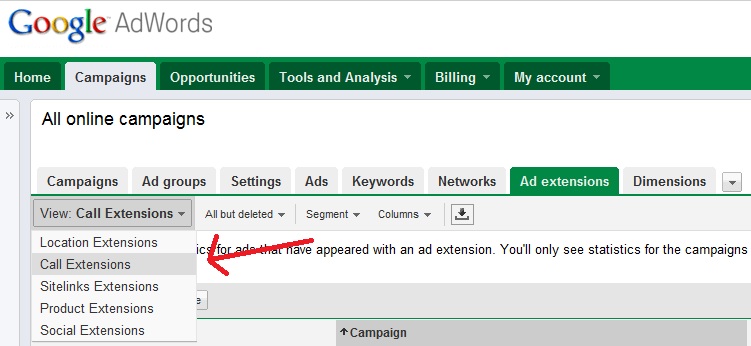 3. Click the "+ New Extension" box.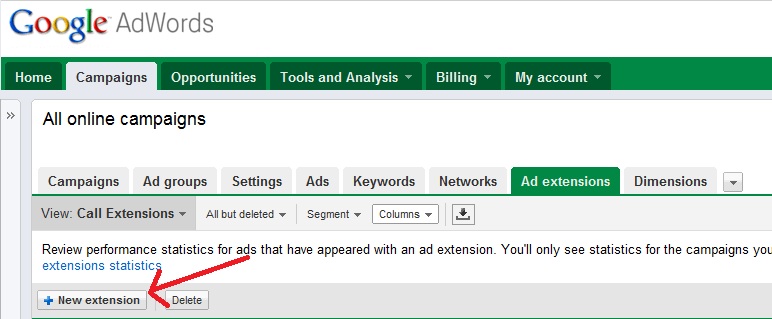 4. (If viewing the entire account) Select the campaign that you want to add a call extension to.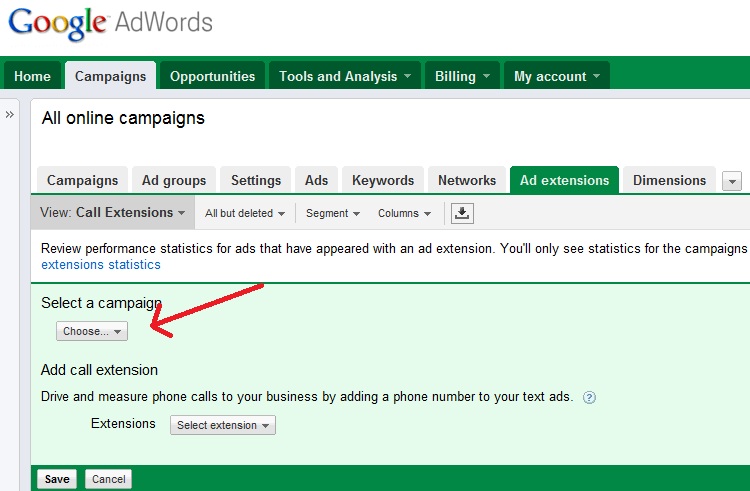 5. Click "+ New Extension", select the country you are located in, and enter the phone number that you want calls to ring through to.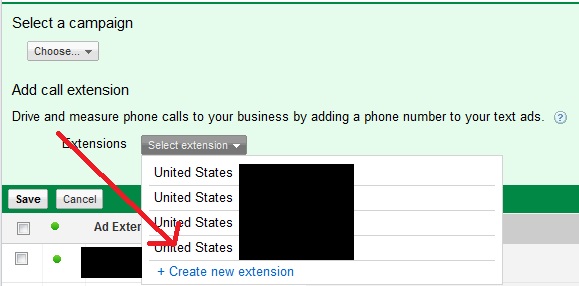 Now you've got some decisions to make. Your first options are to either select "Show my business phone number only on high end mobile phones (CPC)" or "Show a Google forwarding phone number on all eligible ads and devices". Either option will allow you to use click to call, but there are some differences. If you select the Google forwarding option, the number shown with your ads will not be your number, it will be a toll free number assigned by Google. If your goal is only to enable click-to-call, and you only want customers to see your (local, direct) number, select "Show my business phone number only on high end mobile phones (CPC)". If the specific number used is not the primary concern (Perhaps you have an 800 number already), then "show a google call forwarding number" will provide you with other options, which you can read more about here.
6. Now you can either select "Allow click-to-call and clicks to your website" or "Allow only clicks-to-call".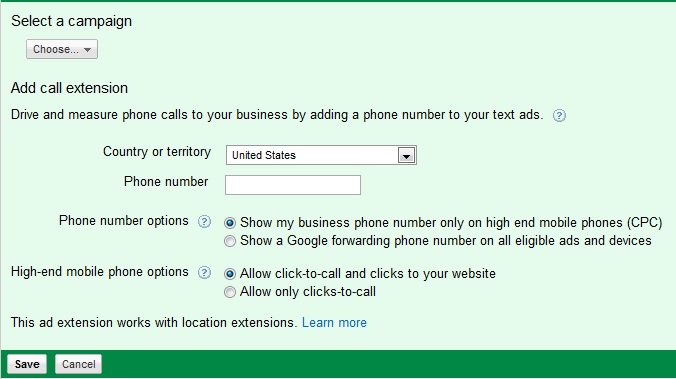 That's it... Couldn't be easier to set up!
The hard part is, determining whether click-to-call only works for you...
about Tom Hale, Jr.
I began my part time apprenticeship at our family SEM business in 2005, and became a full time account manager in June of 2010.
You must be a registered user to add a comment. If you've already registered, sign in. Otherwise, register and sign in.