star_border
Circle Scott Dunroe On Google+
Have you ever clicked on an ad, exited the landing page and then had the same remarketing ad follow you from site to site for days? After a while this may get a little boring (and even slightly weird in some cases) which can give potential customers a negative browsing experience and ultimately lose you the conversion. You can avoid this situation by diversifying your ads using the following three tips:
Frequency Capping - This feature allows you to limit the number of times that your ad is shown to the same potential customer on the Display Network on a daily, weekly or monthly basis at an ad, ad group or campaign level. So if you can determine how often you would mind seeing the same ad over a time period then this might be a good frequency cap to start with. It is then important to keep testing different impression limits and monitor ad performance to ensure that your capping is set at the best possible limit to bring in the most conversions while also giving your potential customers a better browsing experience. To get started with Frequency Capping go into the Settings tab for your Display Network campaign and located the Advanced settings section, from here expand the Ad delivery: Ad rotation, frequency capping group and you will see the option to enable Frequency capping.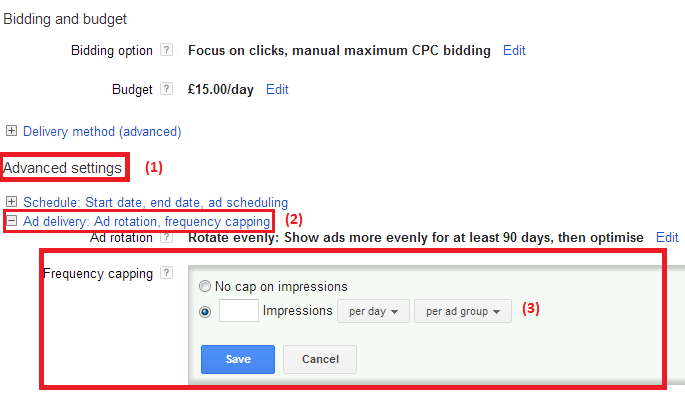 Relevant Remarketing Lists - If your remarketing ads keep getting shown to a user who does not have a strong interest in your industry then it likely they will get tired of your ads much quicker than someone who does have a strong interest in your product or service. It you can determine which of these users have a strong interest, perhaps through website interaction and navigation, then it might be more worthwhile remarketing to this particular list / group rather than others as they will be less bothered about seeing your ad and will therefore be more likely to convert. If you want to try to define this "strong interest" remarketing list then you can do so by going to the Shared Library within your account and then clicking on Audiences, from here click the +New audience drop down button and select Remarketing list. From here you can create a rule to remarket to users who have visited a number of different pages on your website for example.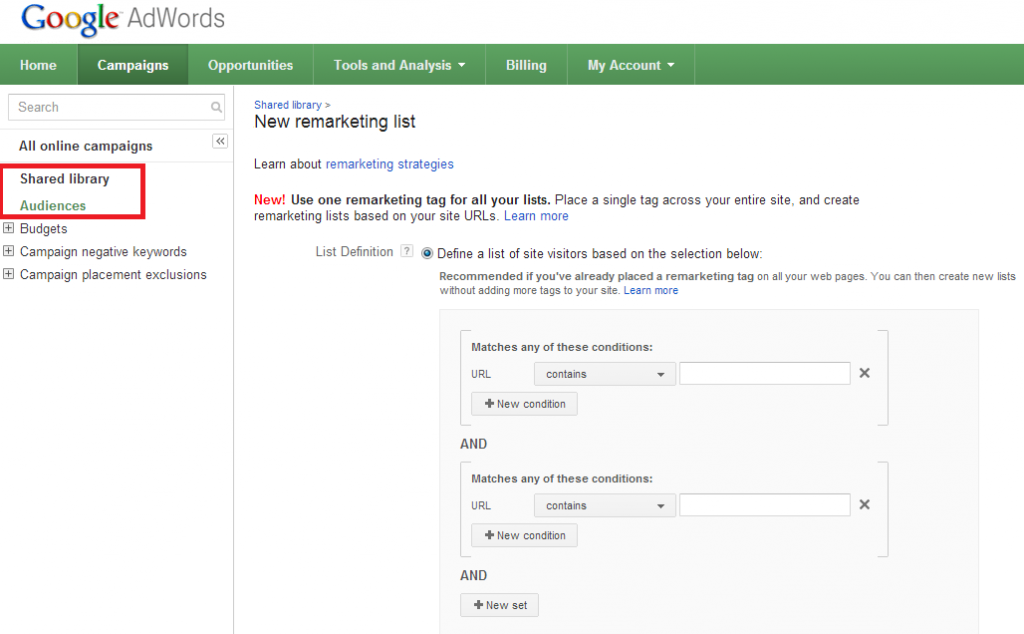 Creative Remarketing Ads - If you don't want to cap the frequency of your ad impressions and would prefer to continue remarketing to a large general audience then be prepared to get creative! By using different image ad variations you can stop potential customers from having to see the same ad over and over while even having the opportunity to test different ads against them. Displaying fresh ads to your customers will give them a better experience and may increase the chances of drawing them back to your site for a second chance at a conversion. To do this you simply need to create multiple ad groups within your remarketing campaign and then have different ad variations within each of these ad groups, be sure to make these variations stand out from one another with regards to design so that they don't look the same. By setting frequency capping per ad you will also prevent the same remarketing ad from being show to the customer and will give the other ad variations a chance to be shown also. Don't forget that you can use the Display Ad Builder to create image ads quickly and easily.
With these tips you should be able to add enough diversity to your remarketing ads to not appear as invasive or repetitive to customers while also improving your chances of generating conversions. Please note that this information will not be as applicable to advertisers who have a branding strategy in mind where repetition can sometimes be key.
*I would like to give a mention to the following community members as parts of the article were inspired by their knowledge:
about Scott Dunroe
I have been managing AdWords accounts for over 8 years now at an international marketing agency level and also as a freelancer. I am very passionate about Google's PPC platform and pretty much anything else that is Google related. My theory in life is to learn something new every day and this community is definitely a good place to do so; I would recommend anyone reading this to stick around as it's an excellent source of information with great people contributing to it.
You must be a registered user to add a comment. If you've already registered, sign in. Otherwise, register and sign in.