star_border
by ScottyD
|
Posted 01-09-2013 09:28 AM
How to Decide on Whether to Include an Automatic Placement as a Managed Placement?
Circle Scott Dunroe On Google+
Where Can I Review My Placements Data?
---
There are many AdWords advertisers who make the mistake of relying on automatic placements without making use of managed placements when running ads on the display network; this strategy will still work for some advertisers but there is definitely a bigger advantage in utilising managed placements.
Before discussing whether or not to transfer an automatic placement into a managed placement it's important to be able to identify where to review this data within your AdWords interface:
Login to your account and navigate to a campaign which is running on the display network.
Click on the Display Network tab.
Just below this tab you will now see another called Placements, clicks this.
Here you have the option to collapse or expand two section entitled Managed placements and Automatic placements.
Ensure that you have an appropriate date range selected in order to review data for these URLs that your ads have been placed on.
How Do I Decide Whether to Include an Automatic Placement as a Manual Placement?
---
The most obvious factor to take into consideration when reviewing automatic placements is whether they have generated a conversion for you or not and at what cost. You will need some historical feedback when making these decisions so make sure that you have a valid date range set when looking at the statistics. If an automatic placement has converted within your target cost per conversion range then it is worthwhile including it within your account to ensure that your ad has a chance of being displayed on that site again in the future. If a placement has converted at a cost over your target (or not at all) then you will need to analyse factors such as how much has the cost exceeded by, after looking at the placement do you think it has potential to convert again, whether you believe you can reduce the cost enough to convert within that target cost per conversion range.
If an incoming automatic placement is new and does not have any or very little feedback then you cannot conduct the same analysis as above. Common sense and knowledge of your own website and business is required instead to determine whether the placement is applicable or not. It may be to early to exclude placements but you can go down the list of automatic placement and manually check each one out to determine how relevant it is to your ad and whether it has the potential to attract visitors to your website who will actually convert into a lead or sale. This process can be a little time consuming but is definitely an excellent way to start building out both managed placements and exclusions within your campaign. Just make sure that you monitor the performance of any newly added placements and be prepared to exclude them if they exceed your target cost per conversion by a significant amount you will have in your head.
What is the Best Way to Add Managed and Excluded Placements to My Campaign?
---
As you run down the list of automatic placements you will start to identify that placements need to either be added or excluded from the campaign. This can be done in a very simple way:
From the Placements page you will notice checkboxes besides the list of automatic placements. You can use these to check which URLs you wish to include or exclude in bulk.
Once you have checked all the automatic placements you wish to include / exclude scroll back to the top of the page until you see Manage placement and bid and Exclude placements.
Click on the option you wish and you will be displayed with a list of the URLs you checked along with fields allowing you to manually insert your maximum CPC bid. Fill these in or leave them blank to use the default ad group bid and then simply hit Save to confirm your action.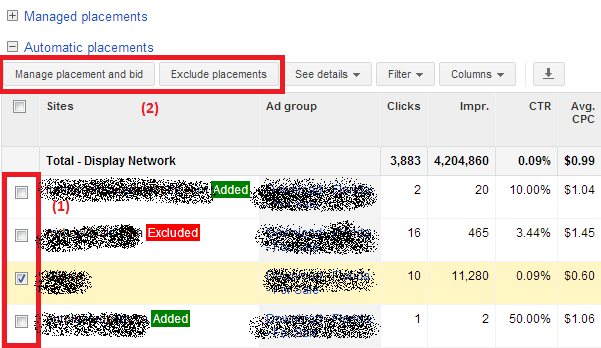 about Scott Dunroe
I have been managing AdWords accounts for over 8 years now at an international marketing agency level and also as a freelancer. I am very passionate about Google's PPC platform and pretty much anything else that is Google related. My theory in life is to learn something new every day and this community is definitely a good place to do so; I would recommend anyone reading this to stick around as it's an excellent source of information with great people contributing to it.
You must be a registered user to add a comment. If you've already registered, sign in. Otherwise, register and sign in.