star_border
Circle Scott Dunroe On Google+
What is Ad Aproval Status?

---
Each ad within a campaign is assigned an approval status indicating whether the ad is eligible to run and, if so, to what degree. It is not uncommon for new users to AdWords to initially complain that their ads are not showing so it is generally a good practice to review the status of the ads before troubleshooting anything else. As an advertiser it is important to understand these different statuses to ensure they are dealt with appropriately (if required) when they arise.
How to Check Ad Approval Status?

---
Before learning what each status means you will need to find where you can check your ads. Login to your AdWords account and select a campaign you wish to review the ad status for, click on theAds tab and you should see a column titled Status beside your list of ads.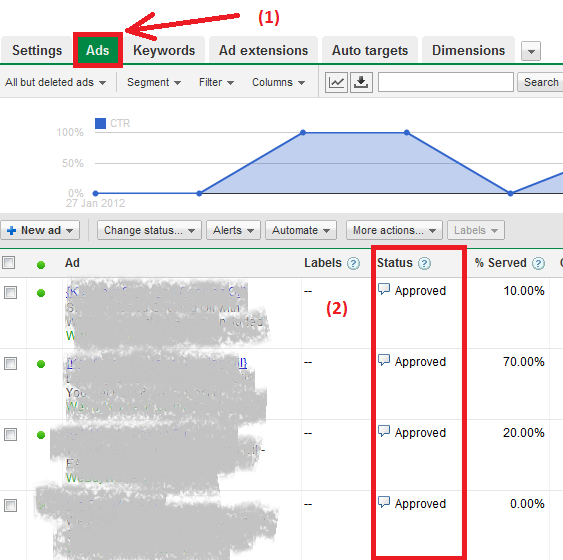 Each status will have a hover-over speech bubble next to it enabling you to see a quick diagnosis of each ad when used alongside keywords and location options of your choice for testing purposes.
What do the Different Ad Statuses Mean?

---
If your ads do not have the Approved status then you may be (or should be) curious as to what the alternative status given to your ad means, it can be the difference between receiving significant amounts of potentially lost traffic or having your ad run at all. There can even be variations on the standard Approved status as you can see via the list below:
Approved (limited) - The content of your ad and website can have certain limitations depending on the country, device and / or search term in question. You are allowed to advertise online gambling within Great Britain with certain limitations for example, whereas no form of online cash games are permitted on AdWords for the United States.
Approved (adult) - Ads with an adult limited status will only show for specific searches related to the industry and not to users who have Safe Search Filtering enabled. Similar to the Limited status, adult ads are disallowed in a number of countries.
Approved (non-family) - Similar to the adult status, any user using the Safe Search Filter will be unable to see your ads if you have the non-family status. This status is given to any content that may be unsuitable for particular audiences yet does not necessarily fall under the adult category. Examples of this include the likes of plastic surgery or some types of sexy lingerie, a larger list can be found on the family status policy page.
Under review - A new or modified ad will be given an Under review or Eligible status depending on the content of the ad description and landing page. An ad that is Under review is unable to show on any network until it is approved or assigned to an alternative status. Ad reviews typically take around three working days and are performed every time a new ad is introduced to your campaign or whenever changes are made to existing ads, the status column is a good indicator of when a review has been completed.
Eligible - New or changed ads that are not categorised within the Under review status are set to be Eligible. This means the ad can run on Google search pages and be shown to users who have disabled Safe Search Filtering until they are fully approved, the ad will not be able to run on the Search Network and Display Network however while under this status.
Disapproved - Any ad with this status has a conflict with an AdWords policy and needs to be adjusted to comply with the policy before it can be approved to run. If you click the speech bubble next to your disapproved ad then you will be given the reason for disapproval, click on this reason to learn more about the policy and how to adjust your ad accordingly.
Site suspended - Ads with a destination URL leading to a suspended website will receive this status as the site will be violating a policy. When this occurs you will receive an email indicating which site is suspended, which policy is being violated and more information on how to resolve the issue. Once changes are made to a site in order to address the policy violation then the support team can be notified via a contact form.
Learn More
---
about Scott Dunroe
I have been managing AdWords accounts for over 8 years now at an international marketing agency level and also as a freelancer. I am very passionate about Google's PPC platform and pretty much anything else that is Google related. My theory in life is to learn something new every day and this community is definitely a good place to do so; I would recommend anyone reading this to stick around as it's an excellent source of information with great people contributing to it.
You must be a registered user to add a comment. If you've already registered, sign in. Otherwise, register and sign in.