star_border
Reply
Mark Topic as New

Mark Topic as Read

Float this Topic for Current User

Subscribe
Visitor ✭ ✭ ✭
November 2015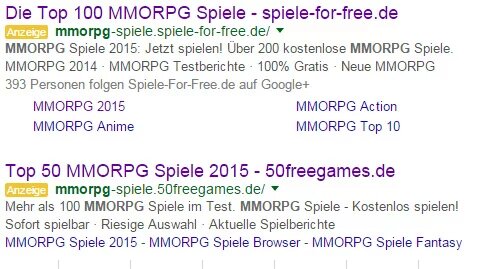 ,i saw this kind of ad text, its length is obviously over 70 bytes, anyone knows how to set the ad?
2 Expert replyverified_user
1 ACCEPTED SOLUTION
Top Contributor
November 2015
I don't see anything unusual in this ad. @qin l, let me explain the first ad to you -
First line is the headline that falls right within 25 characters limit. Though, the domain name is added to it at the end. It's almost very common for top 3 ads these days

Second line in the ad is Display URL, well within the limit

Third

line in the ad

shown above includes both 1st and 2nd ad description lines, well within the character limit of 70.

Fourth

line in the ad above shows CallOut Extensions

Fifth

line is showing social extension

And those four links after it are Sitelinks
Further readings:
https://support.google.com/adwordspolicy/answer/6021630?hl=en
https://support.google.com/adwords/answer/2375499?hl=en
Thanks
Ratan Jha


Join me on Google+
|
Love Tweeting?