star_border
Reply
Mark Topic as New

Mark Topic as Read

Float this Topic for Current User

Subscribe
Google Adwords remarking pixel - main list not growing
Visitor ✭ ✭ ✭
April 2017
I updated our remarketing pixels on 3/15/17. Everything appears to be set up and tracking. But our main (default) list is still empty and not growing.
Screenshots below for - Adwords Remarketing tag active, Adwords last 2 weeks activity, and Adwords main list empty.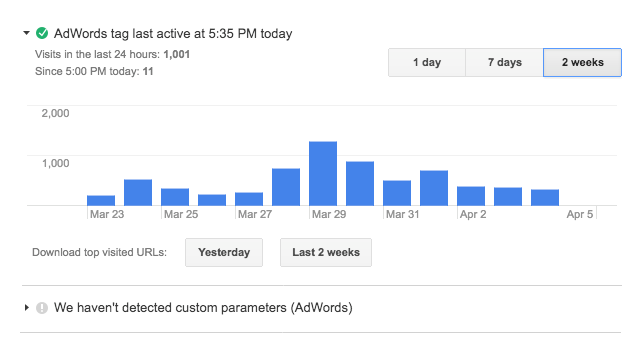 Google Analytics showes 13k site visitors since I added the tags.
Tags are placed the same way and at the same time on other web properties and the lists there are growing as expected.
This is the code placed on the site with issues. (adwords ID removed)
<!-- Google Code for Remarketing Tag -->
<script type="text/javascript">
/* <![CDATA[ */
var google_conversion_id = XXXXXXXXXX;
var google_custom_params = window.google_tag_params;
var google_remarketing_only = true;
/* ]]> */
</script>
<script type="text/javascript" src="//www.googleadservices.com/pagead/conversion.js">
</script>
<noscript>
<div style="display:inline;">
<img height="1" width="1" style="border-style:none;" alt="" src="//googleads.g.doubleclick.net/pagead/viewthroughconversion/XXXXXXXXXX/?guid=ON&amp;script=0"/>
</div>
</noscript>
<!-- End Google Code for Remarketing Tag -->
Any advice appreciated.
Thanks
Jake
1 Expert replyverified_user