star_border
Reply
Mark Topic as New

Mark Topic as Read

Float this Topic for Current User

Subscribe
Don't have option to "Import from Google Analytics"
Visitor ✭ ✭ ✭
March 2015
HI Adwords users,
Recently I have noticed that I don't have the option to import Google Analytics conversions into Adwords for a handful of accounts. I can see the previously imported Goals and Transactions in Adwords, but can't add any new ones.
Does anyone else have this problem?
In Tools > Conversions in Adwords, several accounts are missing the "Import from Google Analytics" button. (see screenshot below)
I manage several Adwords accounts for clients via a My Client Centre (MCC) account. For every client, I link their Google Analytics account to their Adwords account, enable data sharing, and import conversions from Google Analytics when appropriate.
I understand (and can recite from memory) the linking instructions outlined here: https://support.google.com/adwords/answer/2375435?hl=en
So with all due respect, please don't answer this query with "First, you need to link your Analytics and Adwords accounts..." or basic steps in the support article above. (Thanks!)
I know how this is supposed to work, and for 3/4 of my clients accounts, I have set it up with no problems. The issue is that the button is not shown for a handful of my client accounts.
My theories so far:
- Conversion optimization may be messing with this functionality
- I am tracking via a mix of Adwords conversion tracking and Analytics conversion importing: Adwords doesn't like this
That's all I have, no other theories to test.
Please let me know if you are facing the same problem, or if you found a fix. Or just want to commiserate.
Thanks in advance!
Here's a screenshot comparison of two Adwords Tools > Conversions dashboards. Bad situation above, good below.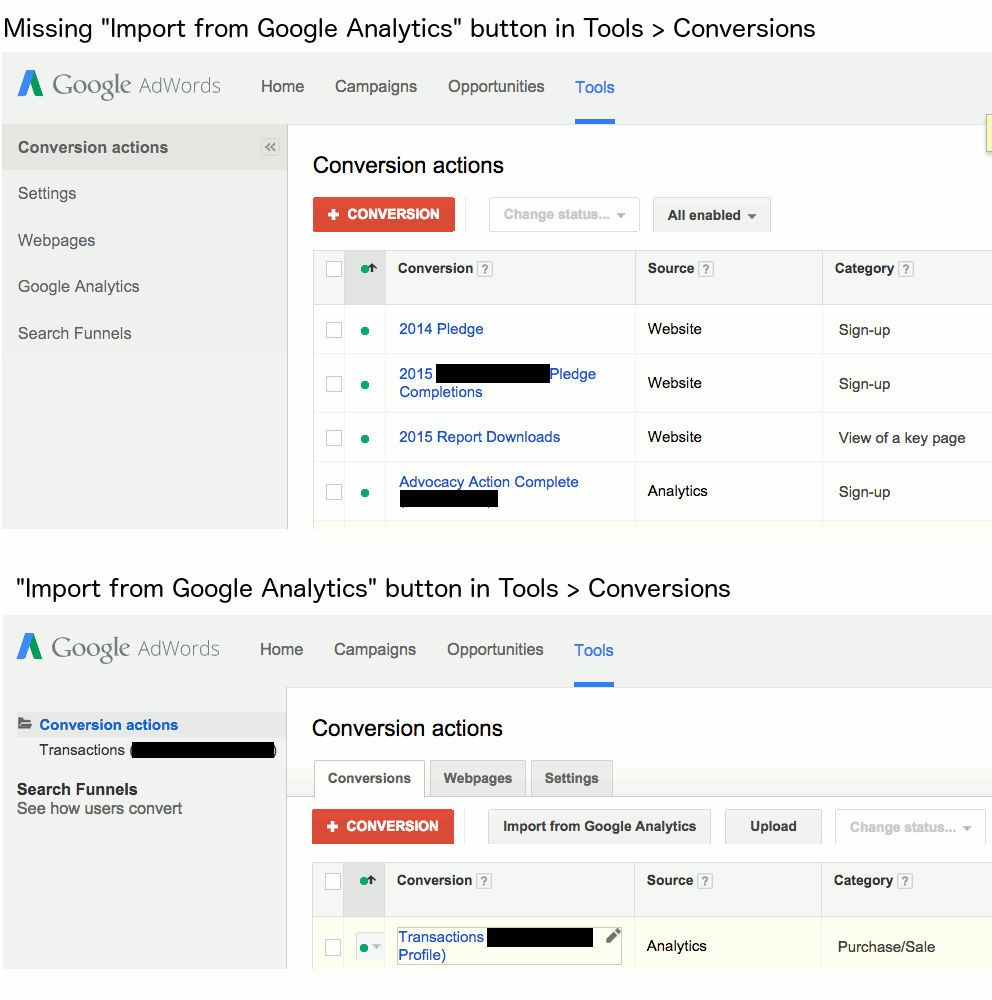 2 Expert replyverified_user