star_border
Reply
Mark Topic as New

Mark Topic as Read

Float this Topic for Current User

Subscribe
Is this double ad serving?
[ Edited ]
Visitor ✭ ✭ ✭
May 2013 - last edited May 2013
Is this double ad serving, and if so, where would someone report it?

Please review these links. What do you think?

http://www.prnewswire.com/news-releases/from-you-flowers-terminates-relationship-with-proflowers-176...
"Shoppers can conveniently make flower, plant and gift basket purchases 24 hours-a-day, 7 days-a-week via the toll-free numbers, 1-800-838-8853 and 1-800-736-3327, as well as online at www.fromyouflowers.com or www.sendflowers.com.

SOURCE FromYouFlowers.com"


http://web.archive.org/web/20130415050029/http://www.sendflowers.com/contact.htm

http://web.archive.org/web/20130119091608/http://www.fromyouflowers.com/contact.htm

I didn't get documents from the State of Connecticut or First Data, but I think this should be looked at more closely. I do notice that the sendflowers.com site was acquired?

Here are screenshots.
Search Term: 91210 florists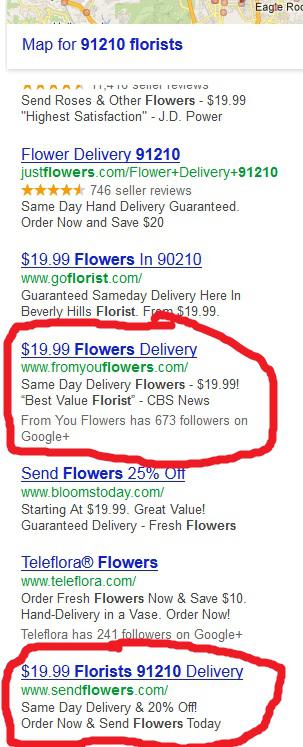 Search Term: Manhattan send flowers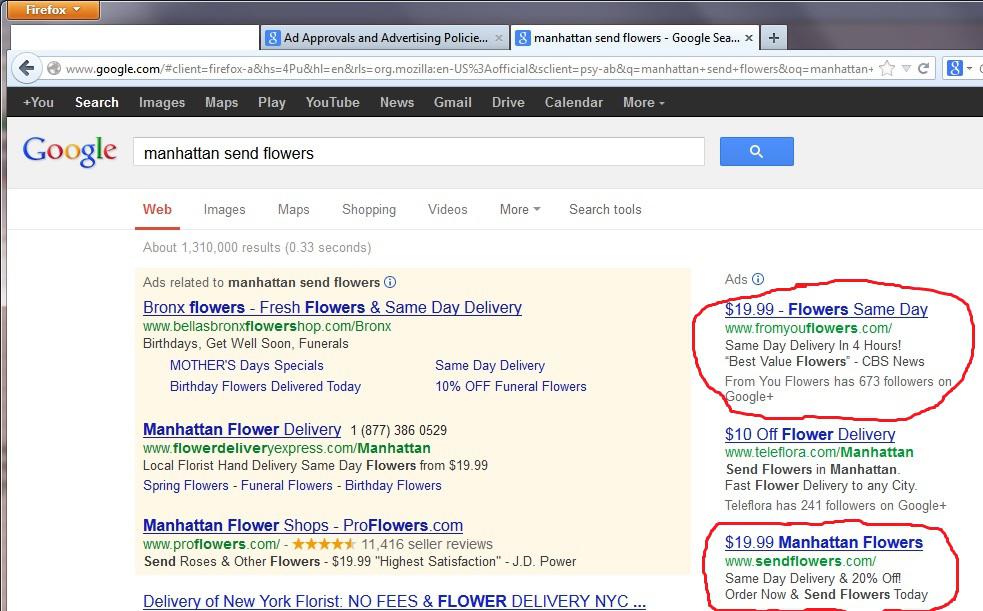 1 Expert replyverified_user
Re: Is this double ad serving?
Rising Star
Rising Star
May 2013
If you believe you've seen something in a Google Search Results Page (SERP) that is a violation of policies, you can use the "send feedback" link at the bottom of that page to report it. Using that link gives you the option of showing the content you want to report from that specific SERP.

Theresa
Google AdWords Top Contributor
*~*~*~*~*~*~*~*